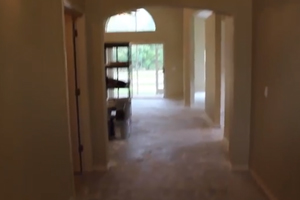 Why Remodel?
Homes are like most things in this world. They age and design trends change. Yes, believe it or not there is a thing called "House-fashion". It's ever changing and there will come a time when your home will be considered dated unless you invest a little time and money. Some areas of the home are worth doing more than others when it comes to resale. As a big percentage of neighborhoods in New Tampa continue to age you too may be facing the big question. Do I put money into the home and if so where will I get the biggest bang for the buck when I sell? After selling over 2500 homes I can tell you the most requested "updated" areas of the home buyers want is the kitchen and master suite area. My home is not immune and it time for me to update! Over the next several weeks I'll be posting a video blog of my master bath remodel. Here are some important tips to think about if you're considering updating your master bath.
Style
An atmosphere of personal indulgence, similar to that of day spas, is finding its way into master baths remodels. Limited only by imagination and a project's budget, standard master baths are turning into customized retreats. The good news is luxury can be incorporated into any design and budget.
Unsure about how to describe your desired style? Not a problem. Make sure to consult a seasoned decorator but first check the Internet for pictures of themes that match your vision.
Materials
For master baths, no material is too luxurious or too unusual. It might mean splurging on granite counter tops, exotic stone floors, imported light fixtures and custom cabinetry. To most of us that's not realistic. With a good designer you can get the look of luxury without breaking the bank. Be careful to stay within your budge and don't overbuild for the neighborhood.
Layout
Create a custom floor plan, consider hiring a certified bathroom designer, who will analyze the size of the space and your family's needs. Depending on your budge you can go to the local Loew's or Home Depot. They have design centers on site that can set up a floor plan and give you an idea of cost. Some things to discuss with the designer include:
Shower or Bath:
The master bath has undergone some changes in recent years. Giant tubs, once wildly popular, have fallen out of favor. Instead, people are choosing custom showers including overhead showerheads, wall-mounted showerheads, hand-held showerheads, shower tiles, rain bars, body sprays and steam showers. People don't spend time soaking in tubs anymore. We all move at the speed of light we need to get in and out fast but want to enjoy the short time we have. That's leading to the popularity of custom showers.
Choosing a custom shower with a smaller bathtub can have a big impact on the layout of a bath, too. A big tub with a nice surround takes up a tremendous amount of space. You can do a great big custom shower in a lot less space.
Delicate Matters
Nobody wants to talk about toilets but let's face it, they're an important part of our daily lives. We spend a lot of time there so do your research. So toilets are shaped differently and are at different heights. Find the one that's right for you. Sit on it! There are a number of plumbing stores in the area where you can try one on.
Universal Design
Another trend in master bathrooms is the use of universal design. This approach, designed to accommodate people of all ages and abilities, includes wider doorways, showers with no raised lip around the bottom, larger shower doors and more room around fixtures. Once thought of as industrial-looking, universal elements such as grab bars now blend seamlessly into even the most luxurious master bathrooms.
Details
When it comes to extras in a master bathroom remodel, look toward the luxurious. Hang an extravagant chandelier over a soaking tub or dress up your cabinets with expensive knobs.
Sound systems and televisions have become quite common in master bathrooms, but today's remodels are taking the concept to a new level. Flat screens are becoming more popular and in-mirror models, where the television is visible only when it is on, are another option.
A master bath should be a calm, quiet retreat, and that can be tough to pull off with the noise from a television or stereo bouncing of the room's hard surfaces. "I would be aware that you want to put some softening materials (like plush towels and fabric window treatments) into the space," Sara Ann says. These finishing touches will add that extra bit of luxury to an already spa like master bath remodel.
I have decided to incorporate a number of ideas mentioned above. Watch my weekly video blogs for the big reveal!
Here is a list of contractors I used